OGAKWU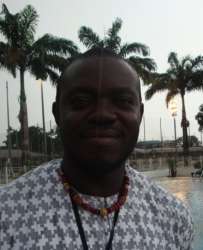 Nigeria

category: Painting
technique: Oilpainting
Style: Representational


Statement:
ARTIST STATEMENT

I am inspired by nature, events and people around me and I try to explore their common theme and imagery. I play a lot with earth colors and my paintings carry with it, the spirit of Africa. This I do by inserting ethnic and symbolic imagery which is culturally authentic and sometimes self generated.
The process of creation is a ritual, I either camouflage my canvas; burn it so it looks like animal skin, or I add textures to it using wood fiber and glue. While a variety of materials and processes are used, my techniques are consistent.



Bio / Resumee / Statement:
RESUME

PERSONAL DATA

NAME -OGAKWU CHINEDU BERNARD
SEX –MALE
STATUS -MARRIED
ADDRESS -7 OLOZU STREET OFF STADIUM ROAD PORT HARCOURT, NIGERIA
POSTAL ADDRESS -12B UMUEZEBI STREET NEW HAVEN , ENUGU, ENUGU STATE,NIGERIA.
EMAIL – splashdesign360@yahoo.com
WEBSITE –www.facebook.com/Bernard Ogakwu
SCHOOLS ATTENDED

CENTRAL PRIMARY SCHOOL NSUKKA, ENUGU STATE.
1982-1988
BOYS SECONDARY SCHOOL NRU ,NSUKKA, ENUGU STATE
1989-1995
INSTITUTE OF MANAGEMENT AND TECHNOLOGY ENUGU
*ORDINARY NATIONAL DIPLOMA- 1998-2000
*HIGHER NATIONAL DIPLOMA- 2002-2004
EXHIBITIONS/CONFERENCES

*GROUP EXHIBITION-''EXPRESSION'',KAMBANI ART LONDON,2005,[WINNER]
*SOLO EXHIBITION- ALLIANCE FRACAIS ENUGU [APRIL 2006]
*HONOURARY EXHIBITION FOR CHINUA ACHEBE [JUNE 2009]
*GROUP EXHIBITION-ALLIANCE FRANCAIS ENUGU [OCTOBER 2007]
*CALABAR ART FESTIVAL-CALABAR [DECEMBER 2008]
*SHELL BP ART EXHIBITION ''HERITAGE'' [APRIL2009]
*PAN AFRICAN CIRCLE OF ARTIST CONFERENCE GAMBIA [JUNE 2010]
*DAKART SENEGAL [JULY 2010]
*TOTAL/ELF ART EXHIBITION ''DIVERSITY''[MAY2010]
*TOTAL/ELF ART FAIR/EXHIBITION''NIGERIAN FASHION''[SEPTEMBER2011]
*SOCIETY OF NIGERIAN ARTIST ''ARTBURST''[2009,2010,2011]
HOBBY
PAINTING,TRAVELING, SIGHTSEEING AND FOOTBALL.

MEMO
HARDWORK AND PRAYER IS THE KEY TO SUCCESS.




BEACH MARKET
Painting
Oilpainting
75 x 75 x 3 cm
2011
for sale (ask for price)
more information


UGOMMA
Painting
Mixing technique
72 x 72 x 3 cm
2011
Price: 900 Euro
more information


KING'S WIVES
Painting
Mixing technique
80 x 80 x 2 cm
2011
Price: 900 Euro
more information


WOMEN FORUM
Painting
Mixing technique
120 x 75 cm
Price: 1.000 Euro
more information


WHEN I GROW UP
Painting
Mixing technique
90 x 90 cm
2011
Price: 800 Euro
more information


FROM THE FARM
Painting
Mixing technique
120 x 80 x 2 cm
2009
Price: 900 Euro
more information


RYTHYMNS
Painting
Oilpainting
40 x 44 x 2 cm
2004
not for sale
more information


THE VICTIM 2
Painting
Oilpainting
42 x 40 x 2 cm
2005
not for sale
more information


THE VICTIM
Painting
Oilpainting
40 x 40 x 2 cm
2005
not for sale
more information


RYTHYMNS 2
Painting
Oilpainting
40 x 44 x 2 cm
2004
not for sale
more information


AWAKENING
Painting
Mixing technique
90 x 80 cm
2010
sold
more information


A STRANGER IN THE MARKET
Painting
Mixing technique
80 x 80 x 3 cm
2009
Price: 980 Euro
more information


BEHIND THE MIRROW
Painting
Mixing technique
90 x 90 cm
2011
Price: 400 Euro
more information