Sara Beigi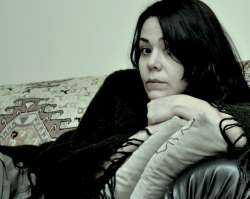 Student
Premium Member artist website
sara_b.artists24.net
United Kingdom

http://www.saatchi-gallery.co.uk/yourgallery/artist_profile/Sara+Beigi/79948.html

category: Painting
technique: Water Colour


Statement:
Artist and Graphic Designer.

Bio / Resumee / Statement:
Pantone Reflex Blue C, Pantone green C, Pantone warm Red C and Pantone Hexachrome Orange C remind me of my grandma Red fishes in her garden fountain.
My work is inspired by my memories, imaginations and childhood. There are unlimited subjects to give me ideas for creativity.
|Simplicity is perfection|- that is what I am following in my art work. As an artist I am not using a computer for expressing my feeling. As a graphic designer, the computer helps me to complete my finished work.
.


.
EVERY ARTIST IS A CHILD.
Whenever you are not child any more you will die. To be grown destroys your dream and imagination.